Under vår fina "julgran", som jag skaffade i brist på annat, låg flera paketet till katterna, för det är ungefär där jag ligger på Crazy Cat Lady-skalan just nu. Söndersprayade med kattmynta så de blev ju båda tokiga. Hon älskar ju snöre och papper som det är och han gillar att ha sönder saker. Så det gick ganska bra för dem att öppna sina paket faktiskt.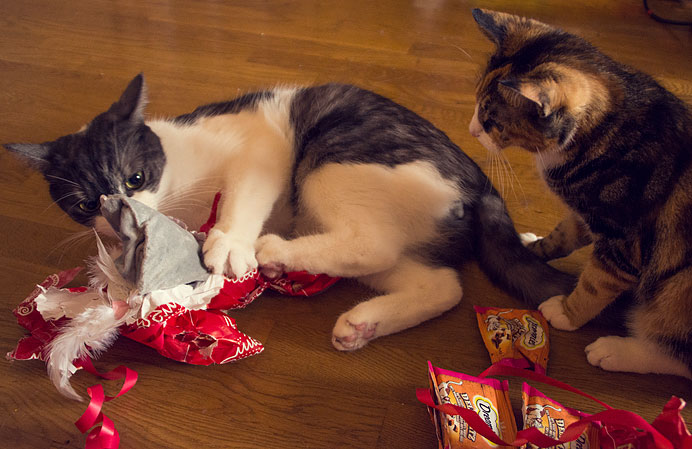 Granen är en en som jag plocka upp i Knalleland snabbt på vägen hem. Den har 9 julkulor, varav en pickle 🥒. Och 13,5meter ljusslinga som jag fick dra runt resten av vardagsrummet. Julfoten också på plats där under såklart!
———————————————————————————————————————————————————————————————————————————-
Under our pretty "Christmas tree", that I acquired in lack of anything real, were a bunch of gifts to the cats, because that's about where I am on the Crazy Cat Lady-scale right now. Completely sprayed with catnip so both of them went crazy. She loves the string and wrapping paper as it is and he likes breaking things. So it went pretty well for them to open their gifts.
The Christmas tree is a mini juniper that I picked up on my way home. It has 9 ornaments where's one is a pickle 🥒. 13,5meters worth of fairylights wrapped around the livingroom. The Christmas tree foot is also in place ofcourse!