Nu är jag jättetöntig och ställer frågor till mig själv för att slippa att skriva en presentation om mig själv.
 Mehehehe.
Vad heter du?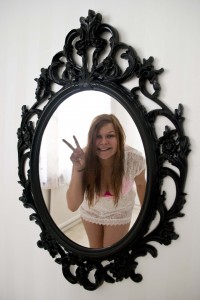 Linnéa, men kallas Nea!
Vad bor du?
I Borås med en filur som heter Oscar och två små katter.
Vad heter din bästaste bästa vän?
Afroo, Ottan, Josefine & Vicky ♥
Hur ser du ut?
Lite sådär —>
Eller i alla fall 2012…. Nu har jag gått upp lite i vikt, hah.
Ja, det är väl det enda som är värt att veta om mig antar jag.
Ifall ni har några frågor så hänvisar jag er till kommentarsfältet eller Google.
Kontakt:
Jag har alltid uppskattat den ädla konsten att skriva och få brev. Mest få. Gäller det mesta dock..
Flaskpost är alldeles för opålitlig nu för tiden och som ni säkert vet så går det helt enkelt inte att bara gå hem till någon hur som helst längre och plinga på deras dörr.
Så enklast blir väl bara att köra såhär:
info@tvillingblomman.se

——————————————————————————————————————————————————————————————-
I'm gonna be really dorky and ask myself questions to avoid having to do a whole presentation about myself. Mehehehe.
What's your name?
Linnéa, but everyone calls me Nea!
Where do you live?
In Borås, Sweden. With a quirk named Oscar and two small cats.
What's the name of your bestest friend?
Afroo, Ottan, Josefine & Vicky ♥
What do you look like?
A bit like that ↑
Or I did in 2012… I've gained a little weight, hah.
Well that's probably the only things worth knowing about me I guess.
If there are any questions I refer you to the comment section or Google.
Coctact:
I've always appreciated the lost art of sending and receiving handwritten letters. Mostly receiving. Applies to most things though..
Messages in bottles are way too unreliable nowadays and as you may know, you can't really just walk home to someone anymore and just ring their doorbell.
So it's probably easiest just to do this:
info@tvillingblomman.se